Dyno Run Shoot Out – Extended!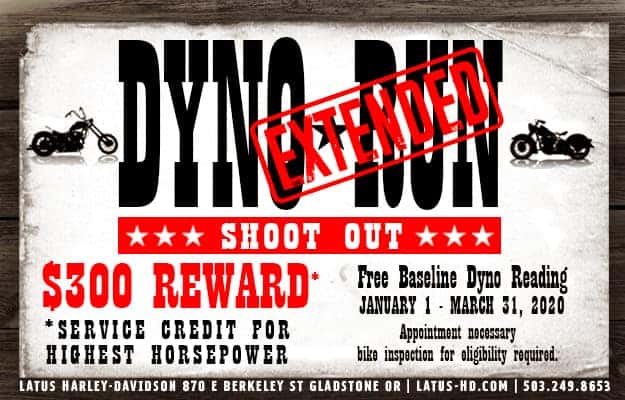 Appointment necessary, bike inspection for eligibility required.
Customers who consent to have their Dyno Sheet posted for everyone to see will be prominently displayed in our service foyer. Customer with the highest HP reading at the end of the month receives a $300 labor credit.
Must be new dyno runs as part of the promotion, previous charts, even those generated by Latus, cannot be used. Rear tire pressure setting and securing the bike to dyno will be done by Latus for consistency and safety. Bikes must be safe, in good mechanical condition and pass our safety/condition inspection before proceeding to the dyno. Any failures or issues while on the dyno will be the sole responsibility of the owner. For safety, owners cannot be inside the dyno room during runs but can be present and view through the dyno room windows. Our dyno operator or engine performance specialist will be happy to review the resulting dyno charts with owners.
Disclaimer for those who have existing dyno charts either from us or others. These are "baseline" dyno runs and may not match previous or existing graph numbers, typically slightly lower. Conditions such as environment, heat soak, correction factors, and others will not be the same, much of which cannot be replicated within a reasonable time given for base runs. Take advantage of a complimentary review if you have any questions or wish for an assessment.
Make your appointment today! http://latus-hd.com/contact-us